Garlic-Peppered Pork Tenderloin with Fresh Peach Relish - Encrusted with a coat of garlic and cracked peppercorns, pork tenderloins are roasted in an intensely hot oven, sealing in their natural juices with moist, flavorful results. The coolness of the fresh peach relish, with its colorful combination of flavors and textures, compliments the tender, spicy pork perfectly.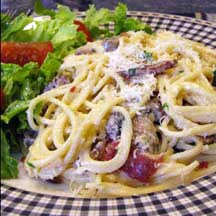 Pasta alla Carbonara - This quick and fabulous dish makes a great "busy day" entree...but there are some rules to follow or you'll end up with scrambled eggs and bacon with pasta instead of a delectable creamy sauce coating the pasta.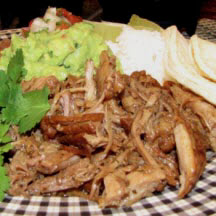 Pork Roast Carnitas-Style - Pork roast is browned, seasoned and then braised slowly until it practically falls apart, boasting an incredibly intense and delicious flavor. Serve a plate of this Mexican-inspired pulled pork with warm fresh corn tortillas, chopped onion, diced jalapeños, cilantro leaves, black beans and rice, Pico de Gallo Salsa, Guacamole and fresh pineapple spears.