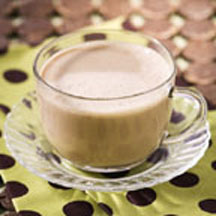 Coconut Coffee - Coconut Coffee is an elegant variation to use for entertaining special guests. Top with sweetened whipped cream to add extra flair to this easy to make hot drink.
Avocado Ice - Creamy! A liquid, Japanese-inspired guacamole on ice -- nutritiously delicious and refreshing.
Liquid Thai - Creamy! This juice, in true Thai style, is sold roadside served in plastic bags, but go ahead and use a glass!