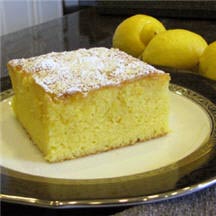 Luscious Lemon Gelatin Cake - This quick and easy "cake-mix" cake is a lemon-lover's delight. The thin, buttery lemon icing is spread over the hot cake straight from the oven, giving it an incredible moist texture and so much lemony flavor, it almost makes your mouth pucker...but not quite!
Zesty Lemon Pound Cake - This zesty lemon pound Bundt cake makes a wonderful desert no matter what the occasion.
Mile-High Buttermilk Cake - If you love lemon meringue pie, you will love this magnificent layered cake with its sweet-tart lemon curd filling and creamy frosting.