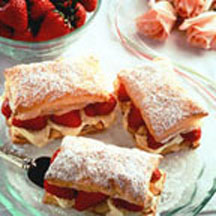 Strawberry-Almond Cream Napoleons - This stunning dessert tastes as good as it looks! All it takes is one sheet of puff pastry, sliced strawberries and a very easy-to-make vanilla mousse. An optional strawberry sauce tops it all.
Red, White and Blueberry Torte - Bursting with chocolate morsels, the cake-like bottom is layered with a fluffy cream cheese and whipped topping mixture, and decorated with colorful, fresh fruit. It's sure to create fireworks at any party!
Strawberry Shortcake with Fresh Sauce - Fluffy shortcake biscuits, split open and steaming, loaded with sliced strawberries, languishing in a sweet pool of fresh strawberry sauce and topped with dollops of whipped cream.