Spinach and Tortellini Enbrodo - Three cheese tortellini and tender baby spinach leaves in a flavorful chicken broth are a perfect combination for an easy light lunch or early supper. Served with cooked carrots, broccoli and hot sliced garlic bread, this simple meal will satisfy even the pickiest eater.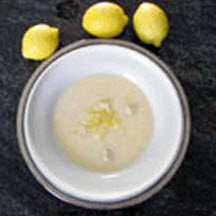 Greek Chicken-Lemon Soup - A delicious rendition of the Greek pastel yellow, citrus-scented soup called avgolemono. Fresh minced dill, basil, cilantro or tarragon stirred in just before serving complements this soup nicely.
Red, White and Bean Minestrone - This colorful cannellini, red kidney bean and Italian minestrone soup is fantastic topped with a little pesto and freshly grated Parmesan.