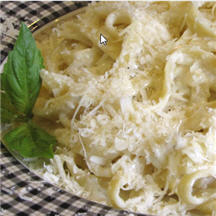 Fettuccine Alfredo - Italian restaurateur Alfredo di Lello is credited with creating this dish in the 1920's. The fettuccine is enrobed in a rich, yet simple sauce of butter, grated Parmesan cheese, heavy cream, salt and freshly ground black pepper...and nothing more.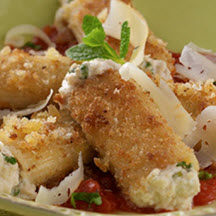 Crispy Mascarpone Rigatoni - Large rigatoni pasta is cooked al dente, dipped in egg, rolled in bread crumbs, fried, stuffed with a savory mascarpone filling and served with marinara sauce and shaved provolone. Recipe by Chef Jasper Mirabile, Jr.
Penne with Fennel - Fresh fennel has a light licorice flavor, which mellows with cooking. When trimming the fennel bulbs, save some of the feathery leaves for garnish.