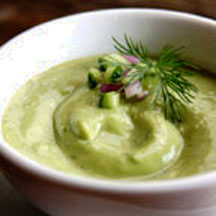 Chilled Spring Avocado-Cucumber Soup - This chilled avocado and cucumber soup is full of fresh flavors and bursting with colors. It is simple to make using a blender. Garnish with finely chopped red onion, diced cucumber and chopped fresh dill for a festive flourish that will impress friends and family.
Chilled Cucumber & Leek Soup - Serve this creamy Panamanian soup as a refreshing first course all year long. It offers a nice change from the usual gazpacho for a cold soup choice.
California Walnut Gazpacho - This classic southern Spanish-style dish is the perfect warm-weather appetizer showcasing herbed walnuts as the finishing touch.