Fried Egg Sandwich with Spinach,
Mushrooms, Onions and Aged Gouda Mornay Sauce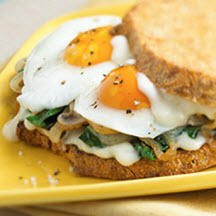 This is not your ordinary, everyday fried egg sandwich. Recipe by Chef Tory Miller.
Recipe Ingredients:
4 tablespoons unsalted butter - divided use
1 small onion, minced
Salt and pepper, to taste
2 tablespoons all-purpose flour
1 cup whole milk
1/2 teaspoon nutmeg, freshly grated
Pinch of cayenne
1 cup Wisconsin Aged Gouda cheese, grated
1 medium sweet onion, thinly sliced
8 ounces sliced mushrooms
5 ounces baby spinach leaves
12 large eggs
12 slices whole grain bread, toasted
Cooking Directions:
For Mornay Sauce: Melt 2 tablespoons of the butter in medium saucepan. Add diced onion, salt and pepper. Sweat the onions on medium-low heat for about 5 minutes or until they are translucent. Add flour and stir to form a paste. Bring to a boil; boil 1 minute. Slowly whisk in milk. Stir in nutmeg and cayenne; bring to a boil. Reduce heat to low; stir in cheese until melted. Remove from heat; set sauce aside to cool.
For Vegetables: Melt remaining 2 tablespoons butter in large sauté pan. Add sliced sweet onion; cook over medium-high heat about 5 minutes or until browned. Stir in salt and pepper to taste and mushrooms; cook about 2 minutes or until tender. Add spinach and cook until wilted.
Final Preparation: For each sandwich, fry 2 eggs to desired doneness. Spread a generous tablespoon of the sauce on each of 2 slices of toast. Top each with 2 to 3 tablespoons of the vegetables. Place the cooked eggs over vegetables on one slice and flip the other slice on top of eggs. Serve immediately.
Makes 6 servings.
Recipe and photograph provided courtesy of Wisconsin Milk Marketing Board, Inc.