Search for recipes throughout the entire site or select one of the recipe collections from the drop-down menu on the search tool below: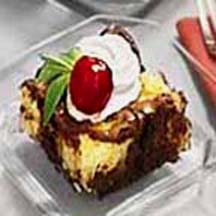 Cherries and cream cheese give these brownies a festive look and taste.
Cherry Cheese Brownies
1 (16-ounce) can dark sweet cherries
1 (15-ounce) package brownie mix, (8 x 8-inch pan size)
2 large eggs, divided use
1/4 cup vegetable oil
1 (3-ounce) package cream cheese, softened
2 tablespoons granulate sugar
3/4 cup sweetened flaked coconut
1 teaspoon almond extract
Drain cherries, reserving 1/4 cup cherry juice. Put brownie mix in a large bowl. Add 1 egg, oil and reserved cherry juice; mix well. Gently stir in cherries. Set aside.
Put cream cheese and sugar in a medium mixing bowl. Beat with an electric mixer 3 to 4 minutes or until well mixed. Add remaining egg; mix well. Stir in coconut and almond extract.
Lightly grease an 8 x 8 x 2-inch baking pan. Spoon brownie mixture evenly into pan. Spoon cream cheese mixture over brownie mixture. Use a knife to swirl cream cheese mixture into brownie mixture.
Bake brownies in a preheated 350°F oven 35 to 40 minutes, or until a wooden pick inserted near center comes out clean.
Let cool before cutting into squares or bars.
Makes 18.
Recipe and photograph provided courtesy of The Cherry Marketing Institute.
Recipe Reviews:
Rate and submit your comments about this recipe below.