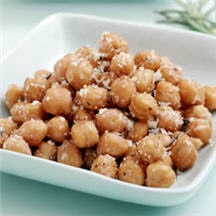 Crunchy Garbanzo Beans - An addicting crunchy, cheesy snack that is great for parties or as an after school snack. The garbanzo beans are baked with olive oil and rosemary and then mixed with cheese.
Bacon Cheese Log - Cheese logs are always a party favorite, especially with bacon in the equation! Serve with lightly salted crackers.
Sweet BBQ Chicken Dip - This delicious barbecue-flavored chicken dip is sure to get rave reviews at the party!