Basic Bechamel (White) Sauce with Variations - Bechamel (more commonly known as white sauce) is one of the five mother sauces. This basic sauce is used as the base for favorite dishes such as scalloped or au gratin potatoes and macaroni and cheese.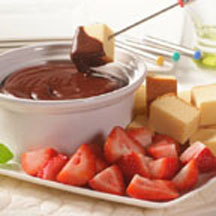 Quick Chocolate Fudge Sauce - Evaporated milk, semi-sweet chocolate chips and a little vanilla make a creamy chocolate sauce you'll have trouble holding back on. Serve warm as a dipping sauce for fresh fruit or spoon over ice cream or cake.
Hollandaise Sauce (with video instructions) - Hollandaise sauce is traditionally served over eggs, asparagus and filet mignon.