Search for recipes throughout the entire site or select one of the recipe collections from the drop-down menu on the search tool below: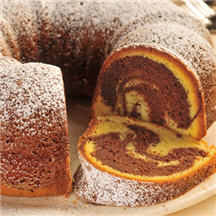 This luscious cake needs no frosting and almost no adornment -- the cake itself is its decoration with the colorful yellow and brown marbling effect.
Marbled Chocolate Sour Cream Cake
1 (6-ounce) package or 1 cup NESTLÉ TOLL HOUSE Semi-Sweet Chocolate Morsels
1 (18.25-ounce) package yellow cake mix
4 large eggs
3/4 cup sour cream
1/2 cup vegetable oil
1/4 cup water
1/4 cup granulated sugar
1/4 cup powdered sugar, (optional)
Preheat oven to 375°F (190°C). Grease 10-cup Bundt or tube pan.
Microwave morsels in medium, microwave-safe bowl on HIGH (100%) power for 1 minute; stir. Microwave at additional 10 to 20-second intervals, stirring until smooth.
Combine cake mix, eggs, sour cream, vegetable oil, water and granulated sugar in large mixer bowl. Beat on low speed until moistened. Beat on high speed for 2 minutes.
Stir 2 cups batter into melted chocolate. Alternately spoon batters into prepared pan, beginning and ending with yellow batter.
Bake 35 to 40 minutes or until wooden pick inserted in cake comes out clean. Cool in pan for 20 minutes; invert onto wire rack to cool completely. Dust with powdered sugar before serving.
Makes 16 servings.
Recipe and photograph are the property of Nestlé® and Meals.com, used with permission.
Recipe Reviews:
Rate and submit your comments about this recipe below.