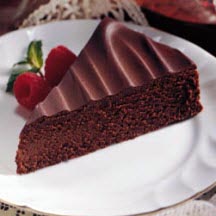 A rich decadent almost flourless cake for the true chocolate lover. It has 46% fewer calories than a traditional cake.
Bittersweet Chocolate Torte
Torte:
6 tablespoons stick butter or margarine
4 ounces unsweetened chocolate
1/3 cup fat-free milk
1/3 cup sugar-free apricot preserves or apricot spreadable fruit
2 teaspoons instant coffee crystals
1 large egg yolk
1 teaspoon vanilla extract
1 1/2 cups Equal® Spoonful*
3 large egg whites
1/8 teaspoon cream of tartar
1/4 cup all-purpose flour
1/8 teaspoon salt


Rich Chocolate Glaze:
1 ounce semisweet chocolate
1 tablespoon stick butter or margarine
Whipped topping, fresh raspberries, and/or fresh mint (optional)
For Torte, heat 6 tablespoons butter, 4 ounces unsweetened chocolate, milk, preserves and coffee crystals in small saucepan, whisking frequently until chocolate is almost melted.
Remove pan from heat; continue whisking until chocolate is melted and mixture is smooth. Whisk in egg yolk and vanilla. Add Equal®, whisking until smooth.
Lightly grease bottom of an 8-inch round cake pan and line with parchment or waxed paper. Beat egg whites and cream of tartar to stiff peaks in large bowl. Fold chocolate mixture into egg whites; fold in combined flour and salt. Pour cake batter into pan.
Bake in preheated 350°F oven 20 to 25 minutes or until wooden pick inserted in center comes out clean. Do Not over bake.
Carefully loosen side of cake from pan with small sharp knife, which will keep cake from cracking as it cools. Cool cake completely in pan on wire rack. Cover and refrigerate 1 to 2 hours or until chilled.
For Rich Chocolate Galze, melt 1 ounce semi-sweet chocolate and 1 tablespoon butter in small saucepan, stirring frequently.
Remove cake from pan and place on serving plate. Pour Rich Chocolate Glaze over top of cake, letting it run down sides. Let cake stand about 1 hour or until glaze is set. Garnish top of cake with prepared whipped topping, fresh raspberries and fresh mint, if desired. Cut cake into wedges.
Makes 12 servings.
* May substitute 36 packets Equal sweetener
Nutrition Information Per Serving (1/12 of torte): calories 145, protein 3 g, carbohydrate 9 g, fat 12 g, cholesterol 36 mg, sodium 116 mg.
Food Exchanges: 1/2 starch, 2 fat.
Recipe and photograph provided courtesy of Merisant Corporation ® and the NutraSweet Company, makers of Equal®.
Click for more information on the artificial sweetner Aspartame.