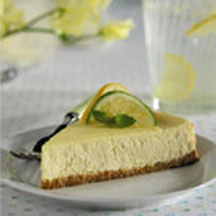 Everyone will love this smooth cheesecake baked in a graham cracker crust.
Classic Creamy Cheesecake
Crust:
1 1/4 cups graham cracker crumbs
1/4 cup SPLENDA® No Calorie Sweetener, Granulated
3 tablespoons butter, melted


Filling:
2 (8 ounce) packages regular cream cheese
1 (8 ounce) package fat-free cream cheese
1 1/4 cups SPLENDA® No Calorie Sweetener, Granulated
4 larg eggs
1 1/2 tablespoons lime juice
1 pinch salt
Preheat oven to 350°F (175°C). Spray a 9-inch springform pan with nonstick cooking spray. Set aside.
Combine graham cracker crumbs, SPLENDA® Granulated Sweetener and melted butter in a small bowl. Press on bottom and up sides of prepared pan.
Bake 10 minutes. Remove from oven and cool on a wire rack.
Beat regular and fat free cream cheese together at high speed with a mixer until creamy; gradually add SPLENDA® Granulated Sweetener, mixing well. Add eggs, one at a time, beating just until each one is incorporated. Add lime juice and a pinch of salt, beat until smooth. Pour into prepared crust.
Bake 50 to 60 minutes or until mixture is almost set, and slightly firm to the touch. Run a knife around edge of pan to release sides, and help prevent cracking. Cool to room temperature on a wire rack; cover and chill at least 8 hours.
Makes 16 servings.
Preparation Time: 20 Minutes
Total Time: 9 Hours 20 Minutes
Nutrition Info Per Serving (1/16 of recipe): Calories 180 | Calories from Fat 130 | Fat 14g (sat 8g) | Cholesterol 90mg | Sodium 260mg | Carbohydrates 9g | Fiber 0g | Sugars 4g | Protein 6g
Recipe and photograph courtesy of Splenda, Inc. Splenda® is a no-calorie sweetener made from sugar that is suitable for diabetics. For more information regarding this product, please call 1-800-777-5363 or visit their website at www.splenda.com.