Search for recipes throughout the entire site or select one of the recipe collections from the drop-down menu on the search tool below: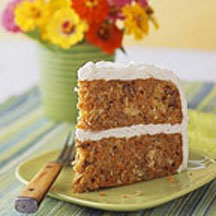 This carrot cake is filled with sweet treasures - golden raisins and chopped pecans.
Double Layer Carrot Cake
Cake:
2 cups all-purpose flour
1 1/2 teaspoons baking powder
1 1/2 teaspoons baking soda
1/2 teaspoon salt
2 teaspoons ground cinnamon
1 large egg, lightly beaten
1/2 cup canola oil
1/3 cup 1% low-fat milk
1 tablespoon pineapple juice
1 teaspoon vanilla extract
1 cup SPLENDA® No Calorie Sweetener, Granulated
1 1/2 cups shredded carrots
1/2 cup golden raisins
1/4 cup chopped pecans
2 tablespoons flaked coconut


Frosting:
2 (8 ounce) packages fat-free cream cheese, softened
1/2 cup light butter, softened
1 cup SPLENDA® No Calorie Sweetener, Granulated
2 teaspoons vanilla extract
Preheat oven to 350°F (175°C). Lightly coat a 9- x 9-x 2- inch pan with vegetable cooking spray. Set aside.
Combine flour, baking powder, baking soda, salt, and cinnamon in a large bowl, stirring until blended. Set aside.
Combine egg, canola oil, milk, pineapple juice, vanilla, and SPLENDA® Granulated Sweetener. Add to dry ingredients, stirring just until blended. Fold in carrots, raisins, pecans and coconut. Spoon mixture into prepared pan.
Bake for 25 minutes or until a wooden pick inserted in the center comes out clean. Cool on a wire rack.
Beat cream cheese and butter at medium speed with an electric mixer until creamy. Gradually add SPLENDA® Granulated Sweetener, beating until light and fluffy. Add vanilla, beating until blended.
Frost with Cream Cheese Frosting.
Makes 9 servings. Serving Size: 1 (3 x 3 inch) slice.
Preparation Time: 20 Minutes
Total Time: 40 Minutes
Nutrition Info Per Serving (1/9 of recipe): Calories 400 | Calories from Fat 190 | Fat 22g (sat 5.0g) | Cholesterol 50mg | Sodium 770mg | Carbohydrates 41g | Fiber 2g | Sugars 15g | Protein 13g
Recipe and photograph courtesy of Splenda, Inc. Splenda® is a no-calorie sweetener made from sugar that is suitable for diabetics. For more information regarding this product, please call 1-800-777-5363 or visit their website at www.splenda.com.
Recipe Reviews:
Rate and submit your comments about this recipe below.