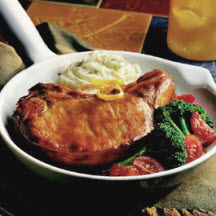 Serve with broccoli spears, mashed potatoes and a tossed salad.
Orange Mustard Pork Chop Skillet
4 pork loin chops, 3/4-inch thick
1/3 cup orange juice
3 tablespoons soy sauce
2 tablespoons honey mustard
In non-stick skillet, brown chops on one side over medium-high heat (about 2 minutes); turn chops; stir in remainig ingerdients. Lower heat; simmer covered 6 to 8 minutes.
Makes 4 servings.
Nutrition Facts: Calories 200 calories Protein 26 grams Fat 7 grams Sodium 870 milligrams Cholesterol 60 milligrams Saturated Fat 2 grams Carbohydrates 7 grams
Recipe and photograph provided courtesy of Pork, Be Inspired®.