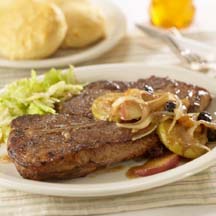 This sweet-and-hot sauce is sure to become a favorite. Keep some on hand, covered in the refrigerator, for glazing ribs, pork chops or pork burgers on the grill.
Spicy Glazed Pork Steaks
4 pork steaks, about 1/2-inch thick
1/2 cup ketchup
1/4 cup orange marmalade
1 tablespoon cider vinegar
1/2 teaspoon celery seed
1/2 teaspoon chili powder
Hot pepper sauce, to taste
Prepare a medium-hot fire in grill.
In small bowl stir together catsup, marmalade, vinegar, celery seed, chili powder and a few shakes of hot pepper sauce.
Grill pork steaks directly over fire, turning to brown evenly, about 12 to 15 minutes, brushing with sauce during last 4 to 5 minutes of grilling.
Serves 4.
Recipe and photograph provided courtesy of Pork, Be Inspired®.
Recipe Reviews:
Rate and submit your comments about this recipe below.