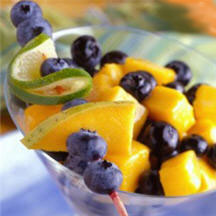 With just three ingredients, this delicious salad is a snap to make. Spoon it into stemmed glasses and enjoy as a light fruit dessert. Or, serve with meat sizzling from the grill or with simple chicken sandwiches.
Blueberry-Mango Colada Salad
2 cups fresh blueberries
2 mangos, peeled, seeded and chopped (about 1 3/4 cups)
1/4 cup frozen pina colada mix, thawed
In a large bowl, toss blueberries, mangos and pina colada mix. Into four martini glasses or dessert dishes, spoon fruit mixture, dividing evenly.
Garnish with blueberries, mango slices and thin lime slices threaded onto long wooden picks, if desired.
Makes 4 servings.
Recipe and photograph are courtesy of the US Highbush Blueberry Council. Used with permission.
Recipe Reviews:
Rate and submit your comments about this recipe below.