Search for recipes throughout the entire site or select one of the recipe collections from the drop-down menu on the search tool below: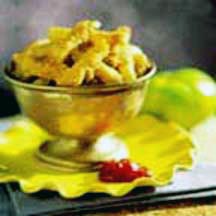 A fun and tasty way to enjoy some of the bounty of a backyard garden! This makes a great appetizer, too!
Green Tomato Fries with Fiery Ketchup
1 pound (4 to 6) green tomatoes, cut into 1/4-inch sticks
1 cup buttermilk

Seasoned Flour:
2 cups all-purpose flour
1 cup yellow corn meal
3 tablespoons Old Bay seasoning salt

Fiery Ketchup:
1 cup ketchup
1 teaspoon cayenne pepper
1 teaspoon hot red pepper sauce (Tabasco)

4 to 6 cups as needed Vegetable oil for frying
In large bowl combine seasoned flour ingredients, mix well.
In separate bowl combine cayenne ketchup ingredients.
Heat oil in deep fryer to 400°F (205°C).
For each serving dip 4 ounces tomato sticks in buttermilk letting excess drain off, and then dredge in seasoned flour. Be sure to get all sides, press lightly while flouring for best adhesion.
Fry individual portions so you do not crowd fryer. Deep fry for about 1 minute, until outside is golden brown. Drain on absorbent toweling. Serve with fiery ketchup for dipping.
Makes 2 to 4 servings.
Recipe and photograph provided courtesy of the California Tomato Commission.
Recipe Reviews:
Rate and submit your comments about this recipe below.