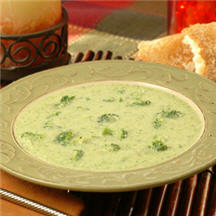 This simple and satisfying soup, which can be made in less than an hour, is a good way to get broccoli into the tummies of fussy eaters. (Great for the lunchbox thermos, too!)
Easy Cream of Broccoli Soup
1 (16-ounce) package frozen chopped broccoli
3/4 cup water
1 (14.5-ounce) can chicken broth
1/4 cup butter or margarine
1/4 cup chopped onion
1/4 cup all-purpose flour
1 (12-ounce) can. NESTLÉ CARNATION Evaporated Milk
Boil water in medium saucepan. Add broccoli; bring to boil. Cover; reduce heat to low. Cook for 5 to 7 minutes or until tender; drain. Place half of broccoli and chicken broth in food processor or blender; cover. Process until smooth.
Melt butter in same saucepan over medium heat. Add onion; cook, stirring occasionally, for 1 to 2 minutes or until onion is tender. Stir in flour. Gradually stir in evaporated milk. Cook, stirring constantly, until mixture comes to a boil. Add broccoli mixture and remaining chopped broccoli. Heat through.
Makes 4 servings.
Estimated Times
Preparation Time: 10 mins
Cooking Time: 15 mins
Recipe and photograph are the property of Nestlé® and Meals.com, used with permission.