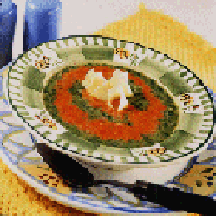 A colorful and delicious pureed bean soup, with hues of red (roasted red pepper), green (spinach) and white (a garnish of Parmesan cheese curls).
Neapolitan Bean Bisque
1/2 cup chopped onion
6 large cloves garlic, cut in halves
1 tablespoon olive oil
1 teaspoon dried rosemary leaves
1/2 teaspoon dried thyme leaves
2 (15-ounce) cans Great Northern or navy beans, rinsed and drained
4 cups reduced-sodium vegetable broth
1 tablespoon balsamic vinegar
1/2 teaspoon salt
1/2 teaspoon pepper
1/2 cup frozen spinach
3 to 4 tablespoons basil pesto
1/4 cup roasted red bell pepper
Parmesan cheese curls, as garnish
Sauté onion and garlic in oil in large saucepan until tender, about 5 minutes; stir in herbs and cook 1 to 2 minutes. Stir in beans, broth, vinegar, salt and pepper. Heat to boiling; reduce heat and simmer 5 minutes.
Puree half the soup (about 2 1/2 cups) in blender with spinach and pesto until smooth; place in small saucepan. Puree remaining soup in blender with roasted pepper until smooth; return to saucepan.
Heat both soups over medium heat until hot. Ladle both soups into bowls simultaneously; swirl lightly with knife. Garnish with Parmesan cheese.
Makes 6 servings (about 1 cup each).
Nutrient Information Per serving: Calories 181; Fat 6g; % Calories from Fat 27; Potassium 558mg; Carbohydrate 29g; Folate 139mcg; Sodium 717mg; Calcium 101mg; Protein 9g; Dietary Fiber 8g; Cholesterol 1mg
Recipe provided courtesy of The Bean Education & Awareness Network.