Search for recipes throughout the entire site or select one of the recipe collections from the drop-down menu on the search tool below: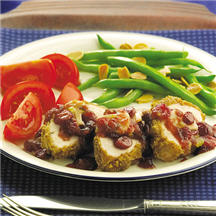 An elegant, yet easy entrée that will make any occasion special.
Oatmeal Nut Crusted Tenderloin
with Mushroom Cranberry Sauce
1 package Honeysuckle White Turkey Breast Tenderloins
1 cup old-fashioned oats
1/2 cup walnuts
1/8 teaspoon salt
1/8 teaspoon black pepper
1/8 teaspoon ground ginger
2 large egg whites

Mushroom Cranberry Sauce
1 tablespoon olive oil
1 (10-ounce) package fresh mushrooms, sliced
1 cup dried cranberries
1 rib celery, diced
1 tablespoon all-purpose flour
1 cup chicken or turkey broth
Preheat oven to 400°F (205°C).
Line baking sheet with wax paper.
Place oats and walnuts in food processor; pulse until finely chopped.
Add salt, black pepper and ginger; pulse two more times to mix well.
Remove from food processor; place in pie plate.
Place egg whites in another pie plate.
Dip turkey in egg, then in oat mixture.
Place turkey on baking sheet a few inches apart, rounded side up.
Bake for 20 to 25 minutes or until internal temperature reaches 170°F (80°C). Remove from oven; let cool for 5 to 10 minutes.
Slice turkey about 1/4-inch thick.
Place 4 to 5 slices on a plate in a fan shape; top with Mushroom Cranberry Sauce and serve.
For Mushroom Cranberry Sauce: Heat oil in a medium nonstick skillet over medium heat.
Cook mushrooms until browned, about 3 minutes.
Add cranberries and celery.
Sprinkle with flour; stir well.
Add broth; cook 3 minutes until sauce thickens slightly.
Makes 6 servings.
Recipe and photograph provided courtesy of Honeysuckle White, a division of Cargill, Incorporated. Used with permission.
Recipe Reviews:
Rate and submit your comments about this recipe below.