Amaretto Purses with Mascarpone and Fontina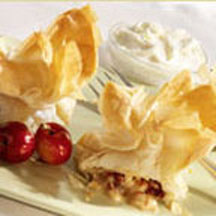 Cute little appetizers made with phyllo dough and filled with mascarpone and fontina cheeses. Recipe by Suzanne Pherigo of Fort Collins, Colorado.
Recipe Ingredients:
2 cups (8 ounces). Wisconsin Fontina cheese, grated
2 cups (8 ounces) Wisconsin Mascarpone cheese
1/2 cup almonds, chopped
1 tablespoon Amaretto*
1 teaspoon white pepper
1/2 cup dried tart cherries
25 sheets phyllo dough (14 x 8.5-inches), cut in half (7 x 4.25-inches)
4 to 5 tablespoons butter, melted
Cooking Directions:
Blend the two cheeses together until smooth. Add the almonds, Amaretto, white pepper and cherries. Mix well and chill for at least one hour, up to overnight.
Preheat oven to 375ºF (190ºC).
Cover the 25 sheets of phyllo loosely with plastic wrap. Take out only the sheets that you are working with.
Place a half sheet of phyllo on the work surface, brush with melted butter. Top with another half sheet of phyllo, brush with butter, and repeat with one more half sheet. Put a tablespoon of cheese filling in the center. Bring up the edges of the phyllo to form a purse (pouch) shaped packet. Place on a heavy baking sheet. Brush exposed surfaces with butter. Repeat to form 16 packets, placing them approximately 1-inch apart on the baking sheet.
Bake until golden, approximately 10 minutes. Serve hot.

Makes 16 purses.
*Can substitute 1 tablespoon of non-alcoholic Amaretto syrup found at many coffee shops and specialty food stores.
Recipe and photograph provided courtesy of Wisconsin Milk Marketing Board, Inc.