Sandwich Recipes
Quality, kitchen-tested recipes for hot and cold sandwiches.
It is said that the 4th Earl of Sandwich had his servants bring him slices of meat between two pieces of bread (being that he was too busy gambling to stop for a meal), and thus the "sandwich" was born. The trend—the sandwich, that is—caught on rather nicely.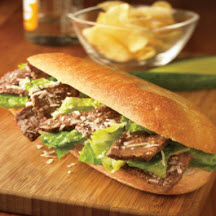 Caesar Steak Sandwich
The stir-fry method puts the quick and easy in this tasty sandwich that features the flavors of the classic salad.
Chicken Olive Ciabatta
Tender chunks of chicken breast, roasted bell peppers, ripe olives, green onions, fresh rosemary and red wine vinegar are served on a ciabatta roll.
Hamburger & Cheeseburger Recipes:
Sandwich Recipes by Ingredient:
Sandwich Recipes by Type:
Tex-Mex "Sandwiches" Recipes: