Salads & Salad Dressings
Ah, the versatile salad! It can play the role of an elegant first course, a colorful side dish, a cool and satisfying entrée, or a light and refreshing fruity gelatin dessert!
CooksRecipes has quality, kitchen-tested recipes for all types of fruit, leaf lettuce and vegetable side dish salads, main dish salads, coleslaws and salad dressings that you can count on for successful deliciousness.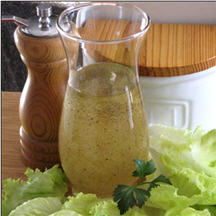 Asian-Style Vinaigrette
Seasoned rice wine vinegar gives this vinaigrette its distinct oriental flavor, it's wonderful tossed with assorted salad greens or shredded cabbage for a mayo-free slaw.
Recipes for Dressings & Vinaigrettes:

Salad Dressings & Vinaigrettes

Recipes for Main Dish Salads:
Recipes for Salads by Ingredient:
Recipes for Salads by Type: