Hamburger & Sausage Dishes
Looking for new ways to serve ground beef, chicken, turkey, pork or sausage? You'll find some delicious ideas here!
Find hundreds of quality, kitchen-tested recipes for burgers, meatloaves, meatballs, casseroles, meat sauces, quick skillet dishes and pasta dishes that you can count on for successful deliciousness.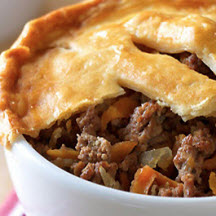 Beefy Pasty Pie
Ground beef easily takes the place of traditional leftover roast beef in this tasty "Pasty Pot Pie". Comfort food at its best!
Quinoa and Sausage Stuffed Peppers
These hearty stuffed peppers feature a combination of nutritious ingredients, including the super grain quinoa and lean Italian turkey sausage.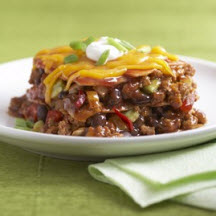 Spicy Mexican Beef Bake
This layered, ground beef and black bean enchilada casserole is easy to assemble and sure to be voted a keeper with the whole family.
Recipes for Burgers & Patties:
Recipes by Cooking Method & Ingredient:
Recipes for Meatloaves:
Recipes for Pasta Dishes by Ingredient:
Recipes by Type: