Beefy Pasty Pie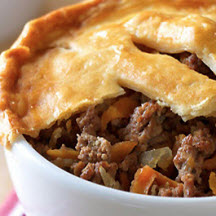 Ground beef easily takes the place of traditional leftover roast beef in this tasty "Pasty Pot Pie"!
Recipe Ingredients:
1 1/2 pounds ground beef (96% lean)
1 refrigerated pie crust (1/2 of a 15-ounce package)
1 1/4 cups shredded carrots
1 1/4 cups shredded russet potatoes
3/4 cup shredded onion
1 teaspoon salt
1/2 teaspoon ground black pepper
1 large egg, beaten
Ketchup or beef gravy (optional)
Cooking Directions:
Preheat oven to 400°F (205°C).
Combine ground beef, carrots, potatoes, onion, salt and pepper in large bowl, mixing lightly but thoroughly. Divide mixture evenly into 6 (8-ounce) oven-proof ramekins or bowls, packing mixture down evenly. Set aside.
Unfold pie crust on flat surface, pressing out fold lines with fingers. Cut crust evenly into six circles, about 3 3/4-inches in diameter.
Place crust over each ramekin allowing edges to drape over ramekin rim; crimping edges to seal. Cut three slits in crust to vent; brush top with egg.
Place ramekins on lined baking sheet.
Bake in 400°F (205°C) oven 30 to 35 minutes, until instant-read thermometer inserted into center registers 160°F (71.1°C) and crust is golden brown.
Let stand 5 minutes before serving. Serve with ketchup or gravy, if desired.
Makes 6 servings.
Note: Cooking times are for fresh or thoroughly thawed ground beef. Ground beef should be cooked to an internal temperature of 160°F (71.1°C). Color is not a reliable indicator of ground beef doneness.
Nutritional Information Per Serving (1/6 of recipe): Calories: 362; Total Fat: 15g; Saturated Fat: 6g; Cholesterol: 96mg; Total Carbs: 31g; Fiber: 2g; Protein: 26g; Sodium: 634mg.
Recipe and photograph courtesy of The Beef Checkoff.