Recipes for Cakes, Cupcakes & Frostings
Ah, CAKE! With these great recipes you can make it, bake it, have your cake and eat, too!
Recipe:
Peanut-Cream Frosted Cocoa Cake
Sure to please, this is a terrific, two-layer cocoa cake filled and topped with a fluffy peanut butter cream and drizzled with a cocoa glaze.
Recipe:
Lazy Daisy Oatmeal Cake
Deliciously comforting, old-fashioned oatmeal cake with a scrumptious broiled coconut crumb topping.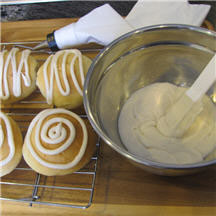 Recipe:
Simple Vanilla Icing with Variations
A great basic vanilla-flavored icing, with variations, perfect for drizzling atop sweet quick breads, yeast breads, muffins, cakes, bars, cookies and more.