Pork Recipes
Quality, kitchen-tested pork entrees and main dishes.
Barbecue Pork Skillet
This is a quick way to serve up tangy barbecue flavor in a hurry from your stovetop.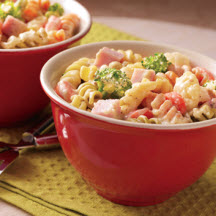 Best Make-Over Ham & Pesto Pasta
Try this delicious blend of ham, pasta and vegetables in a creamy pesto sauce. This dish is so good, you'll never think of it as a meal using leftovers.
Bacon & Ham Recipes:
Pork Recipes by Type & Cooking Method: