Sauce & Condiment Recipes
Quality, kitchen-tested recipes for sauces and condiments.
A sauce is the crowning glory of any dish. From the basic "five mother" sauces, there are literally hundreds of variations of sauces that are used to dress, complement, enhance and bring out the flavor of the food it is served with.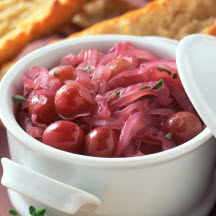 Grape & Red Onion Marmalade
This makes a fabulous addition to roast pork or turkey sandwiches, or serve it as part of an antipasto selection. It is also great as a topper for grilled chicken or steaks.
Recipes for Sauces & Syrups:
Recipes for Accompaniments & Condiments: