Baby Greens with Grapes,
Hot-Sweet Pecans & Gorgonzola Vinaigrette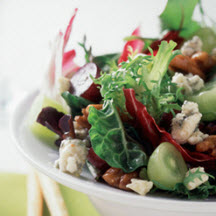 This salad offers an incredible range of flavors and textures that work perfectly together.
Recipe Ingredients:
Hot Sweet Pecans:
2 tablespoons butter
1/4 cup brown sugar, packed
1/2 teaspoon cayenne pepper
1/2 teaspoon salt
1 teaspoon water
1 cup pecan halves

Gorgonzola Vinaigrette:
1/2 cup extra virgin olive oil
3 tablespoons white wine vinegar
4 ounces Gorgonzola cheese, crumbled (about 1 cup crumbled)
1/4 teaspoon black pepper, ground
1/2 teaspoon salt

8 ounce weight baby greens salad mix, or a mix of your favorite lettuces (about 6 big handfuls)
2 cups seedless California grapes, separated and rinsed
Cooking Directions:
For Hot Sweet Pecans:Butter a metal cookie sheet and set aside.
In non-stick frypan, combine first five ingredients. Bring to boil over medium-high heat. Stir until sugar is dissolved, about 2 minutes. Mixture will be bubbly and foamy looking – BE CAREFUL THIS IS EXTREMELY HOT! Add pecan halves and stir while cooking for one and 1/2 minutes. Remove pecans to cookie sheet and spread to separate. Let cool thoroughly.
For Gorgonzola Vinaigrette: Whisk together dressing ingredients until combined.
To assemble salad, toss greens with grapes, nuts and vinaigrette.
Makes 6 servings.
Tips:
Nuts can be done in advance, keep stored in airtight container.

Dressing can be made in advance and stored refrigerated.
Nutritional Information Per Serving (1/6 of recipe): Calories 458; Protein 6.5g; Carbohydrate 23g; Fat 40g; Calories from Fat 75%; Saturated Fat 9g; Cholesterol 31mg; Fiber 2.6g; Sodium 592mg.
Recipe and photograph courtesy of California Table Grape Commission.