Bacon-Almond Cheese Spread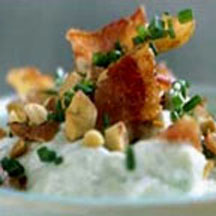 "I like this smooth spread with a mellow honey-cured or maple-smoked bacon that seems so compatible with creamy cottage cheese and toasted almonds. I've also made it with more assertive grated extra-sharp Vermont or Canadian cheddar and toasted almonds, in which case a fine double smoked bacon (like German speck or domestic hickory) is more in order." - James Villas, author of The Bacon Cookbook.
Recipe Ingredients:
5 slices honey-cured bacon, or maple-smoked bacon
2 cups cottage cheese
3 tablespoons fresh chives, chopped
1 teaspoon Worcestershire sauce
Salt, to taste
Black pepper, to taste
1/4 cup almonds, toasted and finely chopped
Whole wheat toast triangles for accompaniment
Cooking Directions:
In a large skillet, fry the bacon over moderate heat until crisp, drain on paper towels, and crumble.
In a blender or food processor, combine the cottage cheese, chives, Worcestershire, and salt and pepper, blend until just smooth, and scrape into a bowl.
Add the bacon and almonds, stir until well blended, cover, and chill about 30 minutes before serving on toast triangles.

Makes 20 servings.
Nutritional Information Per Serving (2 tablespoons): Calories: 40 calories; Protein: 4 grams; Fat: 2 grams; Sodium: 150 milligrams; Cholesterol: 5 milligrams
Recipe and photograph provided courtesy of Pork, Be Inspired®.