Bacon-Wrapped Cocktail Wienies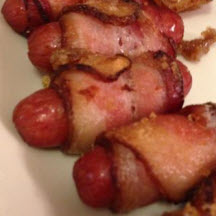 Classic party appetizers, bacon-wrapped cocktail wieners are always a winning choice for finger foods.
Recipe Ingredients:
1 (14 to 16-ounce) package sliced bacon
1 (14 to 16-ounce) package cocktail wieners
1/2 cup brown sugar, firmly packed
Cooking Directions:
Preheat oven to 350°F (175°C).
Cut the bacon slices into thirds.
Wrap a cut bacon slice around each cocktail wiener and place in a baking dish seam side down.
Sprinkle brown sugar evenly over the top of the bacon-wrapped wieners.
Place in preheated oven and bake until bacon is crisp.
Serve warm with toothpicks.
Makes about 3 1/2 dozen appetizers.
This recipe has been edited for clarity, the original recipe and photograph was submitted to PorkBeInspired.com by cleefredrickson.
Recipe and photograph provided courtesy of Pork, Be Inspired®.