Beef & Cheese Pinwheels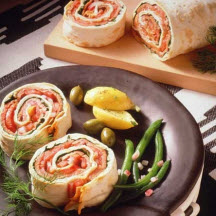 This colorful pinwheel appetizer requires just five ingredients, deli roast beef, flavored cream cheese, spinach leaves, roasted red peppers and flour tortillas, and can be assembled the night before serving.
Recipe Ingredients:
12-ounces thinly sliced deli roast beef
1 (4-ounce) package herb flavored cream cheese
4 large flour tortillas (about 10-inches)
2 cups spinach leaves (about 20 leaves)
1 (7-ounce) jar roasted red peppers, rinsed and drained
Cooking Directions:
Spread cheese evenly over one side of each tortilla.
Place deli roast beef over cheese leaving 1/2-inch border around edges.
Place spinach leaves over beef.
Arrange peppers down center, over spinach.
Roll up tightly and wrap in plastic wrap. Refrigerate at least 30 minutes to overnight before serving.
To serve, cut each roll crosswise into 8 slices.
Arrange cut side up on serving platter.
Makes 32 appetizers.
Tips:
Red peppers must be rinsed and dried to prevent soggy tortillas.
Be sure to wrap tightly to prevent tortilla from drying out.
Slice as close to serving time as possible - cover with plastic wrap
Recipe and photograph provided courtesy of Texas Beef Council and Beef It's Whats For Dinner.