Big League Snack Attack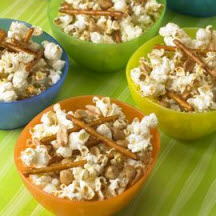 Popped corn, roasted peanuts and pretzel sticks are well-seasoned with Worcestershire sauce, garlic and onion salt, then baked until crisp.
Recipe Ingredients:
1/3 cup butter
1 teaspoon Worcestershire sauce
1/4 teaspoon garlic salt
1/4 teaspoon onion salt
6 cups unsalted popped popcorn*
1 cup thin pretzel sticks
1/2 cup salted, roasted peanuts
Cooking Directions:
Toss together the popcorn, pretzel sticks and peanuts in a large bowl.
Melt the butter and stir in the seasonings.
Drizzle butter/seasoning mixture over popcorn mixture, stirring to coat well.
Spread the mixture in a large, shallow baking pan and put it in a preheated 250°F (120°C) oven to bake for 45 minutes. Stir with a wooden spoon every 10 minutes while it's baking.
Makes 8 cups.
*1 ounce of unpopped popcorn kernels (2 tablespoons household measure) makes approximately 4 cups of popped popcorn.
Nutritional Information Per Serving (1-cup): Total Calories 136.4; Fat - 9.4 g; Carbohydrate 10.7g; Sugar .5 g; Fiber 1.6 g; Protein 3.6 g; Sodium 273.2 g; Cholesterol 7.7 mg.
Recipe and photograph provided courtesy of The Popcorn Board.