Blue Cheese Napoleons with Honey Almonds and Figs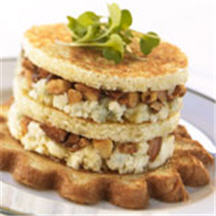 An elegant layered appetizer. Recipe by Chef Jan Birnbaum.
Recipe Ingredients:
10 ounces Wisconsin Blue Cheese
3 ounces whole almonds, with skins
1 pinch mace, ground
4 each fennel seed, smashed
Pinch kosher salt
1 tablespoon almond oil
3 slices Brioche, thinly sliced
1/2 cup melted butter
3/4 cup honey
4 each ripe figs, cut in half through their stems
1 cup balsamic vinegar
Cooking Directions:
Toss the whole nuts in the oil and spices at 300°F (150°C) until deeply roasted. Chop them coarsely.
Reduce the vinegar until it starts to take on a syrupy texture, but don't go too far. Coat the figs in 1/2 of the vinegar gastrique.
Using a 6-inch ring, cut one of the slices of brioche. Using a 3-inch cutter cut the other 2 slices.
Butter the bread with 1/2 the butter and toast flat in a teflon pan at medium heat on the top burner of your stove.
Cook the remainder of the butter to Noisette. That is until it is beginning to brown and the smell of toasted nuts fill the air. Be careful not to burn it.
In the center of a presentation platter, place a few drops of the vinegar gastrique and a few drops of the honey. Place the 6-inch round toasted bread in the center of the plate.
Using the 3-inch cutter placed on top of the bread, create a Napolean by layering the blue cheese, nuts, honey bread. Repeat again, finishing with bread.
Arrange the marinated half figs in a cluster on the top. Drizzle the remaining gastrique and the Noisette butter on the plate around the Napoleon.
Makes 6 servings.
Recipe and photograph provided courtesy of Wisconsin Milk Marketing Board, Inc.