Braised Stuffed Artichokes with Sweet Garlic and Pearl Onions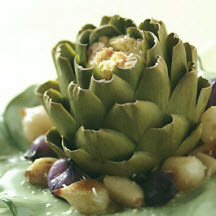 An elegant first course of braised stuffed aritchokes with garlic and pearl onions. Recipe by Chef Roberto Donna.
Recipe Ingredients:
Stuffing:
2 1/2 cups cubed day-old Italian bread, crust removed
1 large egg
4 ounces Wisconsin Pleasant Ridge Reserve cheese, cut in small cubes
2 tablespoons grated Wisconsin SarVecchio™ cheese

Artichokes:
Juice of 1 lemon
6 fresh artichokes
24 pearl onions, peeled
12 roasted garlic cloves
3 anchovy filets
1/4 cup olive oil
1 cup white wine
Salt
Pepper

Cooking Directions:
For Stuffing: Heat oven to 375ºF (190ºC). Place bread cubes in food processor bowl fitted with metal blade. Process to make fine crumbs. Measure out 2 cups into large bowl. Add egg; toss to coat bread crumbs. Stir in both cheeses. Set aside.
For Artichokes: Add lemon juice to kettle of water. Trim stem and outer rows of leaves from artichokes. Cut off top 1/4 of each artichoke. Scoop out interior of artichokes, including the fuzzy choke. Dip artichokes in lemon water often to prevent oxidation. Dry artichokes well. Stuff with cheese mixture.
Place stuffed artichokes, stems up, in large lightly oiled baking dish. Add onions, garlic and anchovies to baking dish. Drizzle with olive oil and wine.
Cover dish with aluminum foil. Bake 45 minutes or until artichokes are tender, turning stem side down after 25 minutes.
Final Preparation: Place artichokes on one large serving plate. Drizzle with sauce and decorate the plate with onions and garlic.
Makes 6 servings.
Recipe and photograph provided courtesy of Wisconsin Milk Marketing Board, Inc.