Brie and Chicken Quesadillas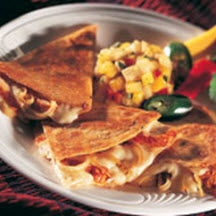 These extraordinary quesadillas are made with brie cheese, chipotle-seasoned cooked chicken and caramelized onions, and served with a fresh salsa of mango, jicama and red bell pepper.
Recipe Ingredients:
2 tablespoons olive oil
2 teaspoons garlic, minced
1 teaspoon chipotle purée
4 ounces chicken breast, julienned
6 ounces Wisconsin Brie cheese
2 red chili (or regular) flour tortillas
1/4 cup yellow onion, julienned
Salsa:
1 mango, peeled, seeded, diced
1 cup jicama, peeled, diced
1/2 red bell pepper, diced
1/2 teaspoon ground cumin
Salt and ground black pepper, to taste
2 cilantro sprigs
Cooking Directions:
Combine olive oil, garlic, and chipotle purée. Rub on chicken and sauté until cooked. Set aside.
Caramelize yellow onion in 1 teaspoon oil. Set aside.
Remove rind from Brie and discard. Spread Brie on tortilla.
Sprinkle caramelized onion and chicken on tortilla and fold over. Brown on each side in a cast iron skillet. Serve with salsa.
For Salsa: Combine mango, jicama, red pepper, cumin, salt, and pepper to create salsa. Garnish with salsa and cilantro sprig.
Makes 2 servings. (Increase servings as needed.)
Recipe and photograph provided courtesy of Wisconsin Milk Marketing Board, Inc.