Cheese Tart with Apple-Walnut Salad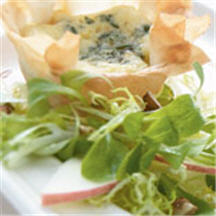 Serve as an elegant first course or as a light entrée for brunch or dinner. Recipe by Chef Rhys Lewis.
Recipe Ingredients:
Tart:
1 tablespoon chopped fresh basil
1 tablespoon chopped fresh thyme leaves
1 tablespoon chopped fresh rosemary leaves
8 large eggs
2 cups heavy cream
1 cup (4 ounces) Roth Käse Grand Cru Gruyère cheese
1/4 cup (about 2 ounces) crumbled BelGioioso Creamy Gorg cheese
1 (16-ounce) box phyllo dough
4 ounces clarified butter

Salad:
1/8 cup extra-virgin olive oil
1/8 cup aged Modena balsamic vinegar
Turbinado sugar, to taste
12 ounces mixed baby salad greens
1/4 cup black walnuts
3 Gala apples, cored and finely sliced
Kosher salt and pepper, to taste
Cooking Directions:
For the tart, preheat the oven to 375ºF (190ºC).
Combine the chopped herbs, eggs, and cream in a mixing bowl. Blend until smooth. Stir in the cheeses. Season to taste and refrigerate.
Remove the phyllo dough from the packaging. While it is still rolled up, trim a quarter inch off of each end of the dough. Unroll the dough and cover with a towel to prevent drying.
On a cutting board, spread flat one layer of phyllo dough and brush with some of the clarified butter. Top with a second layer of phyllo and butter. Continue until four layers are completed. (Refrigerate remaining phyllo for another use.)
Using a sharp knife, cut twelve 4-inch phyllo squares and put each square into a standard-size muffin tin, shaping into a cup. Fill the cups two-thirds full with the cheese mixture.
Bake until the phyllo is crisp and the custard is set. When cool, carefully remove the tarts from the muffin tins. Place one on each of 12 serving plates.
For the salad, in a bowl, mix the oil, vinegar and turbinado sugar for salad dressing. Blend well.
Toss the greens, walnuts, and apple slices with the dressing. Arrange a portion of salad beside each tart. Season to taste and serve.

Makes 12 servings.
Recipe and photograph provided courtesy of Wisconsin Milk Marketing Board, Inc.