Cherry Almond Brie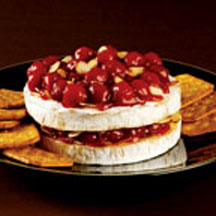 Transform a simple wheel of brie into something beautiful — just add cherry pie filling, almond liqueur and spices.
Recipe Ingredients:
1 wheel (15-ounce) Brie
1 (21-ounce) can COMSTOCK® or WILDERNESS® More Fruit Cherry Filling
1 tablespoon Amaretto liqueur
1/4 teaspoon ground cardamom
1/2 teaspoon fresh lemon zest
1/4 cup toasted sliced almonds
1 loaf French bread cut into thin slices or assorted crackers
Cooking Directions:
Remove Brie from its wrappers and cut in half horizontally. Place one half of Brie on a large microwave safe serving plate. (Make certain that the plate fits in your microwave)
In medium mixing bowl, combine cherry fruit filling, Amaretto, cardamom, lemon zest and sliced almonds. Place one third filling mixture on Brie circle.
Top with remaining Brie half and another one third filling mixture.
Microwave the Brie for 1 to 2 minutes or until the Brie is warm and starts to melt.
Place the remaining filling in a bowl and serve the Brie with French bread slices or crackers.

Makes 16 servings.
Recipe and photograph provided courtesy of Comstock® Wilderness®, through ECES, Inc., Electronic Color Editorial Services.