Chipotle Black Bean Salsa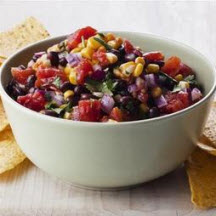 Although this colorful salsa is made from items in your pantry, it has a fresh flavor with tasty highlights from the cilantro and smoky chipotle pepper.
Recipe Ingredients:
1 (14.5-ounce) can diced tomatoes
1 (15.25-ounce) can whole kernel corn, drained and rinsed
1 cup canned black beans, drained and rinsed
2 tablespoons red onion, chopped
2 tablespoons white wine vinegar
1 tablespoon olive oil
1 tablespoon fresh cilantro, chopped
1 teaspoon McCormick® Gourmet Collection Chipotle Chile Pepper
1/4 teaspoon salt
Cooking Directions:
Mix all ingredients in medium bowl. Cover.
Refrigerate at least 30 minutes or until ready to serve. Serve with tortilla chips.
Makes 16 servings.
Recipe and photograph courtesy of McCormick & Company, Inc.