Coconut-Crusted Pork Tenderloin Lollipops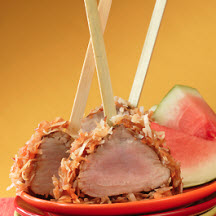 You don't have to be a kid to enjoy these coconut-apricot pork "lollipops". Recipe courtesy of Bob Blumer, The Surreal Gourmet. For an unusual presentation, Blumer likes to serve the skewers sticking out of an inverted watermelon wedge or cantaloupe half.
Recipe Ingredients:
1 pork tenderloin (about 1 pound)
1 cup shredded sweetened coconut
1/4 cup honey
1/4 cup apricot jam
1 tablespoon grated fresh ginger root
2 cloves garlic, peeled
1 tablespoon olive oil
Salt
Ground black pepper
12 (6-inch) wooden lollipop sticks or bamboo skewers*
Cooking Directions:
Preheat oven to 350°F (175°C).
Spread coconut on baking sheet. Place in heated oven and bake for 6 to 8 minutes or until lightly toasted, stirring halfway through baking.
Meanwhile, place honey, jam, ginger and garlic in blender container. Cover and blend until well mixed.
Rub tenderloin with oil; season with salt and ground black pepper. Prepare a medium-hot fire in covered grill. Grill tenderloin, over direct heat for 5 minutes or just until entire surface is brown, turning occasionally. Adjust grill to indirect heat; generously brush entire tenderloin with honey-apricot mixture. Cover and grill over indirect heat for 20 minutes or until internal temperature reaches 145°F (162.7°C), brushing generously with additional honey-apricot mixture halfway through grilling. Transfer pork to cutting board. Loosely cover with foil; let rest for 10 minutes
Brush tenderloin again with honey-apricot mixture. Coat tenderloin in coconut, firmly pressing coconut on pork. Skewer with lollipop sticks or bamboo skewers, from the top straight through to the bottom, at 1/2-inch intervals. Slice between sticks into lollipop-shaped pieces. Pat edges of "lollipops" with remaining coconut, if necessary.
Makes 6 servings.
*Can be found in craft stores or food specialty stores.
Nutritional Information Per Serving (1/6 of recipe): Calories: 251; Total Fat: 9g; Saturated Fat: 6g; Cholesterol: 50mg; Total Carbs: 28g; Fiber: 1g; Protein: 17g; Sodium: 180mg.
Recipe and photograph provided courtesy of Pork, Be Inspired®.