Crunchy Pretzel Chicken Wings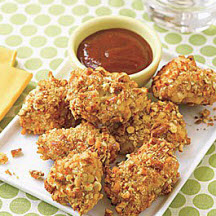 Oven-fried chicken wings are coated with a crispy pretzel crust and served with a chutney-pecan dipping sauce.
Recipe Ingredients:
2 pounds broiler-fryer chicken wings
1/2 cup butter, melted
1 teaspoon cayenne pepper
1/4 teaspoon garlic powder
1 cup finely crushed pretzels
1/2 cup finely chopped pecans
1/4 teaspoon black pepper
Chutney-Pecan Dipping Sauce (recipe follows)
Mango slices
Cooking Directions:
On cutting board, place each chicken wing. Cut off tip at first joint and discard. Cut remaining wing into two parts at joint.

In shallow bowl, mix together butter, cayenne pepper and garlic powder.

In another bowl, mix together pretzels, pecans and black pepper.

Dip each piece of chicken first in melted butter mixture and then in pretzel-pecan mixture.

Place chicken on a large greased cookie sheet.

Bake in 350°F (175°C) oven about 50 minutes or until fork can be inserted in chicken with ease.

Remove chicken from cookie sheet and place on serving dish. Garnish with mango slices.

Serve the Chutney-Pecan Dipping Sauce in separate bowl.
Makes 6 appetizer servings.
Chutney-Pecan Dipping Sauce: In container of food processor or blender, place 4 tablespoons melted butter, 1/3 cup chutney, 1/4 cup honey and 1/4 cup pecan halves. Process, pulsing on and off control several times, until pecans are chunky.
Recipe originally submitted by Virginia Moon of Harvest, AL. Recipe and photograph provided courtesy of the National Chicken Council. Used with permission.