Deviled Eggs A La Idaho® Potatoes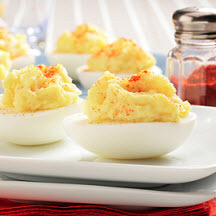 Recipe courtesy of the Idaho Potato Commission.
Recipe Ingredients:
2 medium Idaho® potatoes, scrubbed and pierced
12 hard-boiled eggs, shells removed and halved lengthwise
1/2 cup light mayonnaise
1/3 cup 2% milk
3 tablespoons prepared mustard
2 teaspoon granulated sugar
1/4 teaspoon salt
Paprika to garnish
Cooking Directions:
Wrap each potato individually in a paper towel and place in microwave about 1/2-inch apart. Microwave on high setting 5 to 6 minutes or until fork tender. Remove from microwave. Immediately cut each potato in half lengthwise. Let stand 5 minutes to cool slightly.
Place 12 egg yolk halves in large bowl (see note below). Place all of the egg white halves on a large serving plate.
Using a spoon, scoop out potato "meat" and place in bowl with the egg yolks. Mash with fork or potato masher. Add remaining ingredients except paprika. Stir until well blended.
Using a teaspoon, place equal amounts of the mixture in each egg white half. Cover with plastic wrap and refrigerate 3 hours before serving.
Sprinkle with paprika and serve chilled.
Makes 24 deviled egg halves.
Note: The remaining 12 egg yolk halves can be finely diced and sprinkled on salads or other vegetable dishes for an extra dose of protein. Store in airtight container in refrigerator for up to 4 days.
Nutritional Information Per Serving (3 halves): Calories: 150; Total Fat: 9g; Cholesterol: 165mg; Total Carbs: 8g; Fiber: 1g; Protein: 9g; Sodium: 360mg.
Recipe and photograph courtesy of The Incredible Edible Egg™.