Egg Salad Stuffed Tomato Cradles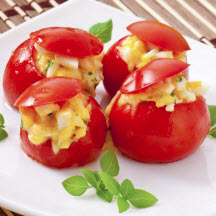 These egg salad-stuffed tomatoes make great after-school snacks, or serve them at a spring or summertime breakfast buffet. Tip: Serving healthier snacks will help keep your kids focused during homework.
Recipe Ingredients:
4 Eggland's Best eggs, hard-boiled
1 1/2 tablespoons avocado
2 tablespoons plain nonfat yogurt, ideally organic
2 teaspoons Dijonnaise
1/4 teaspoon lemon juice
Freshly ground pepper to taste
Salt to taste
4 small tomatoes on the vine (we suggest campari tomatoes for best flavor)
Cooking Directions:
Place avocado in a medium bowl with yogurt, dijonnaise and lemon juice and mash together with a fork. Mash until creamy throughout.
Chop eggs and stir them gently in the yogurt mixture. Season with salt and fresh cracked pepper to taste. Set aside in refrigerator.
Cut a thin slice off the top of each tomato. Leaving a 1/2-inch shell, scoop out the pulp. (Reserve the pulp for adding to salads, topping sandwiches or adding to omelets.)
Makes 4 servings.
Recipe and photograph provided by Eggland's Best, LLC via Brandpoint Content; Copyright 1996-2014.