Feta Triangles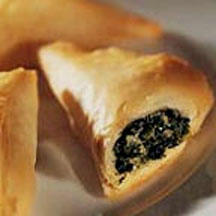 These feta and spinach filled puff pastry triangles make festive appetizers.
Recipe Ingredients:
Filling:
3 tablespoons olive oil
2 1/2 cups green onions, chopped
2 cups frozen spinach, thawed, chopped, squeezed dry
2/3 cup ricotta cheese
1 cup (6 ounces) crumbled feta cheese
3/4 cup grated Parmesan cheese
2 large eggs
Salt and freshly ground pepper, to taste
1/4 to 1/2 teaspoon ground nutmeg
3/4 cup pine nuts, toasted

Pastry:
16 phyllo dough sheets
Butter, clarified, as needed
Cooking Directions:
Preheat the oven to 350°F (175°C).

For the Filling: In a large skillet, heat the oil. Add the green onions and sauté one minute to soften. Stir in the spinach and cook until dry. Remove from the heat, and set aside to cool.

In a bowl, combine the cheeses and eggs, salt, pepper, and nutmeg. Mix well. Stir in the reserved spinach mixture and blend well. Stir in the nuts. Cover, and refrigerate. Makes approximately 4 1/2 cups.

For the Pastry: Create four phyllo stacks: butter one sheet of phyllo, stack another sheet on top, and butter. Repeat until there are a total of four sheets forming each stack.

To prepare as appetizers, cut the first phyllo stack into six even strips width-wise. Place a scant tablespoon of the spinach filling at the bottom of each strip and fold up to form triangles. Butter both sides and place on a buttered sheet pan. Repeat with the remaining phyllo stacks to make 24 triangles.

Bake for 20 minutes or until golden brown. Serve hot. Triangles may be cooled and reheated to serve.

Makes 24.
To prepare as luncheon servings: Cut the first phyllo stack into three rectangles width-wise and use a scant 1/2 cup filling per piece, folding up to form triangles. Repeat with the remaining phyllo stacks to make 12 triangles. Butter and bake as directed above.
Recipe and photograph provided courtesy of Wisconsin Milk Marketing Board, Inc.