Fiesta Dip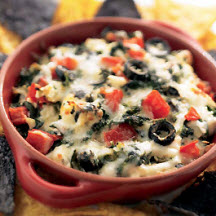 Serve this yummy, cheesy, south-of-the-border party dip warm with crisp tortilla chips.
Recipe Ingredients:
1/3 cup onion, diced
1 teaspoon olive oil
2 medium tomatoes, seeded and chopped
1 tablespoon canned chopped green chiles
1 (10-ounce) package chopped frozen spinach, thawed and well drained
1 cup (4 ounces) Wisconsin Monterey Jack Cheese, coarsely grated
1 cup (4 ounces) Wisconsin Queso Quesadilla Cheese, coarsely grated
1 8-ounce package Cream Cheese
1 (2.25-ounce) can sliced ripe olives, drained
Blue and yellow corn tortilla chips for accompaniment
Cooking Directions:
Preheat oven 400°F (205°C).

Cook onion in olive oil in medium skillet over medium-high heat 5 minutes or until tender.
Add tomato and chiles; cook 2 minutes.
Transfer mixture to a large bowl; add spinach, cheeses and olives, stirring well.

Spoon mixture into a buttered 2-quart baking dish.

Bake, uncovered, for 30 to 35 minutes or until golden and bubbly.

Serve warm with tortilla chips.

Makes 6 cups.