Fresh Fiesta Vegetable Platter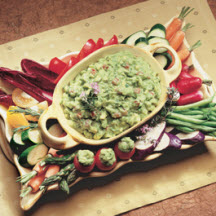 Recipe courtesy of California Avocado Commission.
Recipe Ingredients:
1 cup cauliflowerets
1 cup broccoli florets
1 cup jicama sticks
1 cup carrots sticks
1/2 cup small whole mushrooms
1 1/2 cups whole radishes
1/2 cup sour cream
Guacamole:
2 ripe California avocados, seeded and peeled
1/4 cup finely chopped onion
2 tablespoons fresh lime or lemon juice
2 teaspoons chopped garlic
1 teaspoon ground cumin
Chopped jalapeño pepper, to taste
Cooking Directions:
Arrange prepared vegetables on serving platter, along with the guacamole in a dipping dish or lettuce cup.
For Guacamole: Combine all ingredients; mash to desired consistency.
Makes 6 appetizer servings.
Recipe and photograph courtesy of California Avocado Commission.