Fried Calamari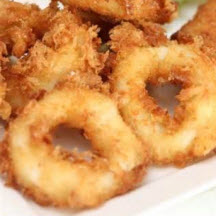 Delicious fried calamari, crispy on the outside, tender on the inside.
Recipe Ingredients:
1 (2.5 pound) package cleaned calamari (tubes and tentacles), rinsed well
1 1/2 cups all-purpose flour
3/4 teaspoon salt
1 1/2 teaspoons dried oregano
1 1/2 teaspoons paprika
1/2 teaspoon ground black pepper
Vegetable oil
Cooking Directions:
Cut calamari tubes into 1/4-inch-thick rings. Soak calamari in cold water 30 minutes; drain. Pat dry with paper towels.
Combine flour and next 4 ingredients. Dredge calamari in flour mixture.
Pour oil to a depth of 6-inches into a Dutch oven. Heat to 400°F (205°C).
Fry calamari, in batches, 1 minute, allowing oil to reach 400°F (205°C) before cooking next batch. Drain on paper towels. Serve immediately.
Makes 4 to 6 servings.