Ginger-Orange Glazed Chicken Wings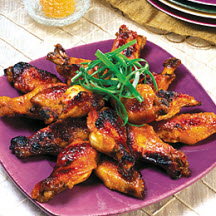 Party guests will love this tasty Asian spin on hot wings.
Recipe Ingredients:
2 pounds chicken wing, disjointed
1/2 cup orange juice concentrate, undiluted
3 tablespoons fresh lemon juice
1/4 cup hoisin sauce
1 tablespoons canola oil
1/4 cup granulated sugar
3 tablespoons fresh ginger, minced
3 cloves garlic, minced
3 green onions, slivered
Cooking Directions:
If you purchased whole wings, cut them into three pieces at the joints and discard the tip piece, keeping the "drummette" and the flat middle piece.

In a large plastic, resealable bag, place orange juice concentrate, lemon juice, hoisin sauce, canola oil, ginger and garlic. Seal and shake to mix. Add chicken wing pieces, seal and shake to coat evenly. Refrigerate overnight, or up to 3 days.

Preheat oven to 400°F (205°C).
Line a large sheet pan with aluminum foil. Spread wings on foil.

Bake for 45 minutes, until brown and shiny.

Transfer wings to a serving platter and sprinkle with green onions.

Makes 6 appetizer servings.
Recipe and photograph provided courtesy of the National Chicken Council. Used with permission.